Sam Darnold Says He Hopes to Return From Mono Ailment By Week 5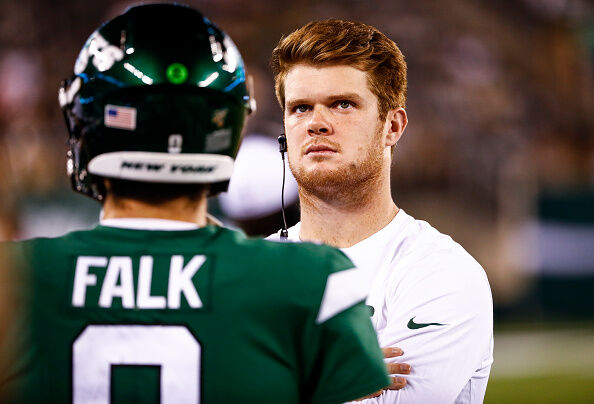 Sam Darnold:

"I'm feeling a lot better. There was a really bad four-day stretch there where I also had strep throat during the Mono, so it was a bad few days. It's a tricky disease but I'm going to keep handling it like I'm handling it… I've only lost 2 pounds during my time with it. It was only three days that I was super sick, and I made sure I kept feeding myself although I didn't feel like eating. I was eating snacks as much as I could. I'm almost back to normal and having my appetite back is the best thing for me… We have the bye after the Patriots game this week and hopefully for me, I'll be able to recuperate and get back at it. The goal is to get back in time for Week 5 versus Philly… I know there was a sign at the game of some girl claiming that she gave it to me, but I have never seen that girl in my life, just wanting to set the record straight on that!"

(Full Interview at Bottom of Page)
Listen to Sam Darnold join The Michael Kay Show on ESPN New York Radio 98.7 FM as the sickly 22-year-old opens up about his experience with the common disease 'infectious mononucleosis' AKA 'Mono' that has knocked the former no. 2 overall pick out of action.
Last Thursday, Darnold was already being ruled out of the team's Monday Night Football game versus the Cleveland Browns, and has already been ruled out for their Week 3 bout versus the undefeated New England Patriots. Darnold was not allowed to appear at the team's facilities until Tuesday, because of the worries of the infection being contagious.
Darnold told Michael Kay and the MKS crew that he watched the game with his parents. He also says he's been eating plenty of snacks throughout the week to keep his energy up, and has only lost two pounds.
Check out the full interview HERE as Darnold explains that the goal doctors have given Darnold is for him to return in Week 5 versus the Eagles after their Week 4 bye.

FOX Sports Radio
Want to know more about FOX Sports Radio? Get their official bio, social pages & articles on FOX Sports Radio!